Quality
Experienced Staff
24 Hour Dispatch
Value
State Ready Mix, Inc.
Quality Ready Mixed Concrete, Delivered On Time at an Affordable Price
State Ready Mix, Inc. is a trusted and experienced ready mixed concrete company in Ventura County. We have served the needs of contractors and homeowners throughout Ventura, Oxnard, Camarillo, Thousand Oaks, Malibu, Santa Barbara, Simi Valley, and surrounding areas for over 30 years and are known for our knowledgeable staff, exceptional customer service, high-quality concrete delivery services, and competitive prices.
We Serve All of Ventura County and Parts of Santa Barbara & Los Angeles Counties.
No Job Too Big or Too Small!
Ready mixed is a type of concrete that is manufactured in a factory or batching plant according to a set mix design. It is delivered to a work site by truck-mounted transit mixers, resulting in a precise mixture and allowing specialty concrete mixtures to be developed and implemented on construction sites.
At State Ready Mix, we offer:
Concrete/Custom
Lightweight Concrete
Colored Concrete
Fiber Mesh or Other Additives
We have a computerized chart to help you choose your preferred colored concrete, and offer all types of of concrete additives.
Call Today for Ready Mixed Concrete Delivery Anywhere in Ventura, Oxnard, Thousand Oaks, Santa Barbara & Surrounding Areas
Our concrete delivery services are available 24 hours a day. With our fleet of 30 concrete mixer trucks and a large and diverse supply of construction aggregate materials, we're able to meet the needs of concrete construction jobs of any size.
Call us today for a free quote. State Ready Mix, Inc. is fully licensed.
State Ready Mix Inc.
Phone: 805-647-2817
Fax: 805-647-3759
Address:
3127 West Los Angeles Ave.
Oxnard, CA 93036
Business Hours:
Monday - Saturday
6 a.m. - 5 p.m.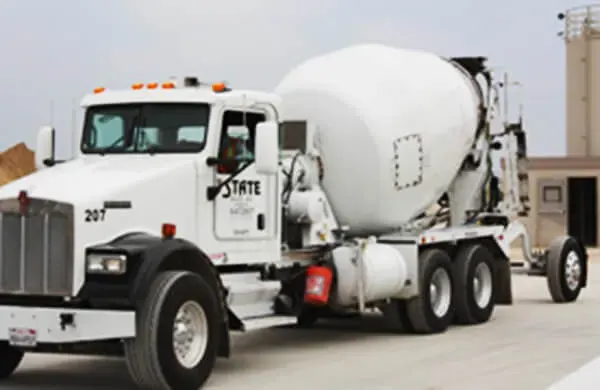 Concrete Calculator

Estimate the volume of concrete needed for any job size.

Contact Us
6 Reasons to Choose State Ready Mix
Over 30 Years of Industry Experience
Fully Licensed
No Job Is Too Big or Too Small
Mixers Can be Dispatched 24 Hours a Day
High-Quality Construction Aggregate Materials
Large Fleet of Well-Maintained Mixer Trucks